London live Aug 4th
London live Aug 4th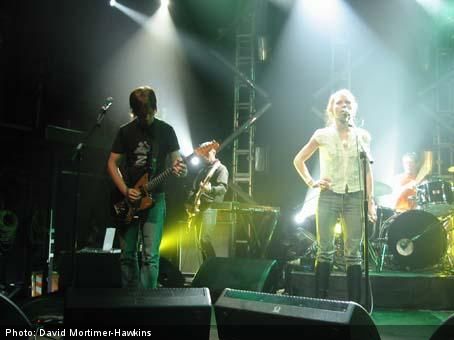 Hey people!

As our dear Bengt mentioned, he didn't make it on this debut gig. But we had an excellent stand in drummer named Rasmus Kihlberg. He's the blonde buy next to Lasse by the way.

Here is what we looked like during the soundcheck at noon. Peter had to
wait a very long time for his rented amp so he hummed the riff for " Fine wine" the first times we played it. It got better once he plugged in his guitar.

More live pix will come this weekend so stay tuned brothers and sisters!

By the way, we crushed the Brits, it went down real well!

By: Magnus Sveningsson


| | | |
| --- | --- | --- |
| Published: | | 2005-08-13 23:55:00 |
| Updated: | | 2005-08-21 14:38:47 |



Animal Five video!
Yeah man, I made a video for our friends in Animal Five!
/ MORE /

Thank you Japan!
Back home in Sweden again, we wanna thank the audience of Tokyo and Osaka.
/ MORE /

Tokyo crazy!
yeah man! We´ve been rolling Tokyo guitar stores and bars since we came here two days ago....
/ MORE /

Cardigans bubbelibub archive »