Live report from Kungsträdgården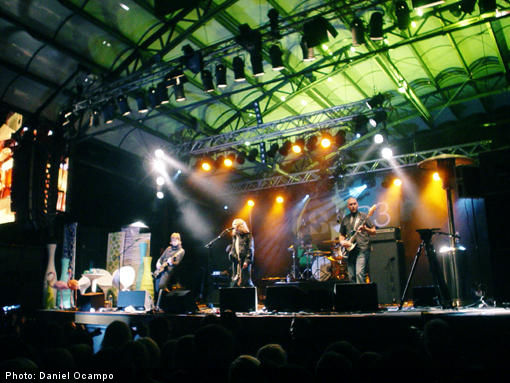 Just hours ago The Cardigans completed a successful 4-song live performance to a crowded and enthusiastic Kungsträdgården in Stockholm as part of the Sveriges Radio Festival celebrating 80 years of Swedish public service radio.

Met by roaring applauses the band opened with the reflective Don't Blame Your Daughter (Diamonds) from the upcoming album Super Extra Gravity and by the time the next song, Erase/Rewind, had begun the audience was in their hands. New single I Need Some Fine Wine and You, You Need to be Nicer was unexpectedly and cheerfully greeted with applauses and singalong audience participation. Nina introducing the song saying - "This is a song about dog chasing cat, cat chasing rat, rat gnawing rope and that whole story", paraphrasing the famous old fairy tale. After a short interview with the host and hostess of the evening The Cardigans surprised the audience with an explosive encore of My Favourite Game which set the whole place alight and finished the evening in celebration.

In spite of the chilly autumn night both band and audience gave their best - The Cardigans appearing more cool and confident than ever and the audience responding accordingly; with enthusiasm and excitement. Tonight showed that after 11 years there still is a lot of love for The Cardigans.

Click here to see more pictures of the gig.

| | | |
| --- | --- | --- |
| Published: | | 2005-09-18 00:41:00 |
| Updated: | | 2005-09-18 01:18:51 |