Animal Five first single out now!
Animal Five first single out now!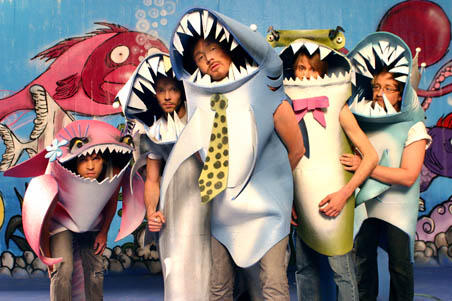 As the A&R and the sole bandmember who browse this site, I can do whatever I please! ;-)

So I thought I could boost up the interest for my first A&R signing at Stockholm records. The guys in Animal Five have just released their first single "Sharks" two days ago and their 6 track debut record will be out in 3 weeks time. perhaps time to join the bandwagon and get their stuff right away? hell yeah!

Hereīs a link to CDON.COM, a reliable website from Sweden.

http://www.cdon.com/main.phtml...ession=1

And hereīs the site for the band, it will look better once Magnus J gets his hands on to it. itīll be grand in a week or two, trust me!

www.theanimalfive.com

and here aswell: http://www.myspace.com/theanimalfiveplease

And thereīs always ITunes for the Swedish peeps u know...

guess thatīs all folks...

By: Magnus Sveningsson


| | | |
| --- | --- | --- |
| Published: | | 2006-05-05 00:15:00 |
| Updated: | | 2006-08-04 20:49:16 |



Animal Five video!
Yeah man, I made a video for our friends in Animal Five!
/ MORE /

Thank you Japan!
Back home in Sweden again, we wanna thank the audience of Tokyo and Osaka.
/ MORE /

Tokyo crazy!
yeah man! Weīve been rolling Tokyo guitar stores and bars since we came here two days ago....
/ MORE /

Cardigans bubbelibub archive »