Nina joins the Manics for single and video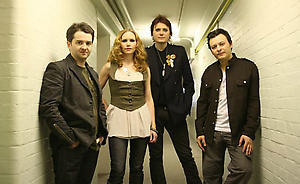 Nina will feature on the new album from the Manic Street Preachers "Send Away the Tigers" out May 7. "Your Love Alone Is Not Enough", the first single out April 30, is a dynamic and powerful duet between Nina and Manics front-man James Bradfield.

The video for "Your Love Alone...", filmed in London with Nina, will premiere on BBC Radio 2's website tomorrow Monday 19 after 10:30. Make sure to go to the BBC Radio 2 website to check it out.

About the collaboration with the Manics Nina says the following:

"Yes, I sung with the manics, on a song that's gonna be on their new record. I recorded the vocals in New York, and James came over to oversee my work. It's a great song that works well as a duet, and MSP is one of my favourite bands, too, so I was really happy to be asked by them. I hope you'll enjoy the song!"

| | | |
| --- | --- | --- |
| Published: | | 2007-03-18 10:13:00 |
| Updated: | | 2007-03-18 10:36:32 |